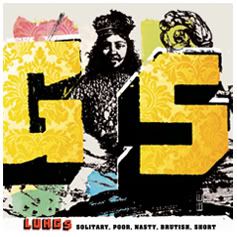 Lungs - Solitary Poor Nasty Brutish Short
Género
:FAST Hc Punk
Bitrate
:VRB
Tamaño del archivo
:21Mb
MySpace
:
MySpace
Lista de Temas
:
01 Radical Science
02 The Expanding Circle (A Second Open Letter To Sam Neil)
03 Grey Walter, Wilder Penfield
04 Ghosts/Robots (Robots Win)
05 Vessels
Bajar MediaFire
-----------------------------------------------
Lungs are a Sydney punk rock trio with an attention deficit. A taste for the frantic has them mixing the speed of skate punk and thrash with the more driving anthems of post-hardcore rock. They also play, write and record at an enviable pace.

Since they formed in the inner west of Sydney in 2006, they have become synonymous with Australian fast punk, touring the country and playing main supports for acts as diverse as NOFX, A Wilhelm Scream, Lagwagon, Bouncing Souls, Mach Pelican, The City On Film and Blueline Medic.

Their recorded output has been relentless, beginning with an 8-track EP in early '07, 'Breathe, Bastard, Breathe', then their debut full-length album later that year, 'An Anatomical Guide', followed by their recent new EP 'Solitary, Poor, Nasty, Brutish Short' in 2008; all this through leading independent punk label Poison City Records out of Melbourne. Their 2007 album will be released in Japan through Fast Life Records in late 2008, with a Japanese tour planned for mid-2009, along with continuous Australian dates.

Really nice band